David Trubridge will be at ICFF this year presenting his "Beauty Matters" talk as well as being on the panel for the darc "Decorating Interiors with Light" talk.
Beauty Matters (Talk)
Tuesday May 23, 2017, 11:00am
Why does beauty matter more in our day than it has ever done before and how does it relate to sustainability? Is it enough to have environmentally efficient buildings if they are not beautiful as well? Can design be good design if it is not sustainable?
David looks at why beauty and art have been so important to the human race since we first ventured out of Africa. David will show how he has applied this philosophy in his manufacturing process to reduce his environment impact.
Attendees have the chance to win a signed copy of David's book SO FAR.
Presenter: David Trubridge from David Trubridge Ltd.
RSVP: beautymattersICFF@wakanine.com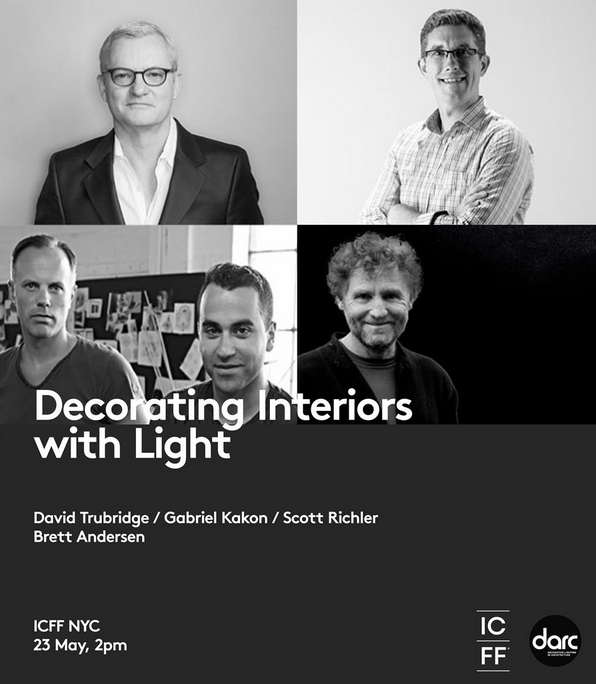 Decorating Interiors with Light (Panel)
Tuesday May 23, 2017, 2:00pm
ICFF NYC
Moderated by David Howell, the darc 'Decorating Interiors with Light' talk will be a discussion between interior designers, lighting designers and product designers on the importance of 'good' lighting in interior design schemes. Topics discussed will range from current trends in decorative lighting to advances in technology, such as LED and how these are shaping the lighting design industry.
Moderator: David Howell – President, DHD Architecture + Interior Design
Panelists:
David Trubridge – David Trubridge Ltd.
Gabriel Kakon – Gabriel Scott
Scott Richler – Gabriel Scott
Brett Andersen – Focus Lighting
RSVP: info@wakanine.com