David Trubridge and Redwoods Treewalk have partnered to create an iconic nocturnal tourism experience: the Redwoods Nightlights.  It is New Zealand's first design-led tourism experience.  The new night-time experience offers visitors and locals the opportunity to explore Rotorua's majestic Redwood forest under the shroud of darkness; illuminated by David Trubridge's lights.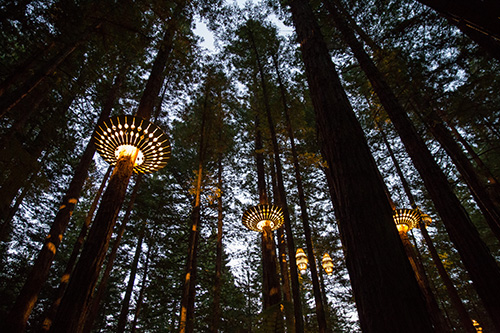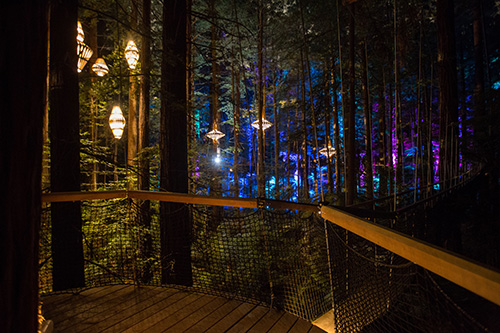 "With thirty custom-made creations and a network of lights the night-time forest will come to life in a magical and surreal experience," says Rotorua local and Treewalk director Kellie Thomasen. "David Trubridge's unique and inspiring lights add an amazing design element that is sure to become a much admired attraction within the forest."
"The idea to marry design and tourism attraction remains relatively unexplored in New Zealand and enhancing an already magnificent environment like the Redwoods was no easy task. The Trubridge design team and the arborists at the Treewalk worked hard to place the thirty 2.5m tall lantern creations in areas embracing the natural beauty of the forest, to provide dramatic contrast for visitors. It will be an experience Rotorua can be proud of."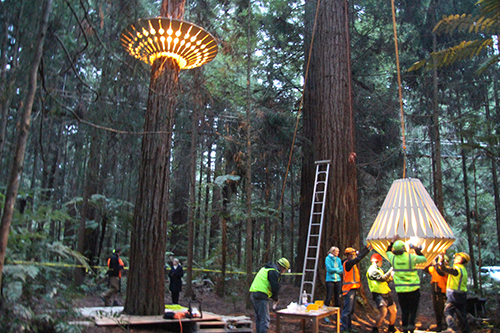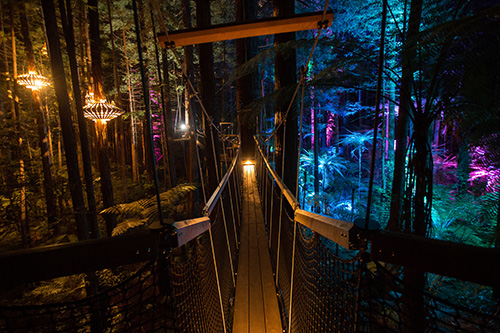 In addition to the Trubridge lighting, over forty infinite colour spots and feature lights will illuminate the 115-year-old redwood trees, forest ferns and pungas.
The lights are up to 2.5 meters tall and were made at the David Trubridge workshop in Hastings and assembled by a team in the forest.  Creating outdoor lighting was challenging especially for the forest environment.
"The lights needed to feel weightless, yet be able to survive the conditions," says Trubridge. "Some are suspended over 25 metres above the ground, with others installed to circle the trees. In the giant scale of the redwood grove they had to be much larger than most lights the studio normally makes."
Project Highlights
A new unique Kiwi design-led Tourism experience found nowhere else in the world
Acclaimed David Trubridge elements make the Treewalk experience iconic and a truly NZ design-lead experience
Featuring over ½ kilometre of illuminated giant Redwoods, Treeferns and Silverferns
The Redwoods Forest is the most popular natural attraction in Rotorua
Project Specs
Quantity of lights: 30
Names: Ruru (NZ owl), Karearea (NZ Falcon) and the Miromiro (Tomtit).
Installation Duration: Over twenty years
Location: Rotorua, New Zealand (Treewalk).
Website: TreeWalk
David Trubridge
Interview on RNZ with David Trubridge on how the lights were developed: Interview