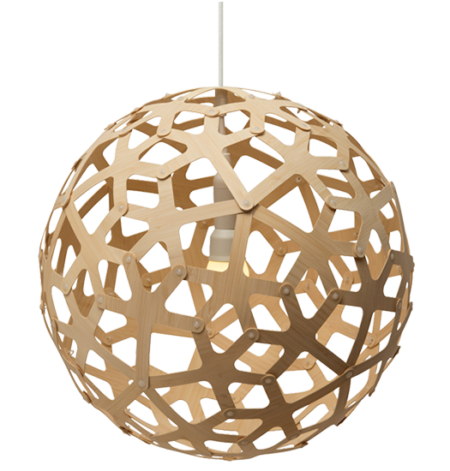 Coral Pendant is based on one of the geometric polyhedra that have interested David since he was a boy. The intricate form is made from just one single component repeated 60 times. Originally designed purely as an experiment, it only became a light later when David tried to find a use for it by putting a bulb inside.
Coral comes in 6 sizes ranging from 400mm dia to 1600mm dia. The plywood finish can be all natural or painted on one side thus creating a stock selection of 11 options. Coral was David's first lighting design which now is considered to be a design classic.
AVAILABLE IN 6 SIZES AND 11 STANDARD FINISH OPTIONS:
David Trubridge kitset lightshades come in various sizes, making it easy to find the right size to any interior space whether it's small or large.
All wooden and/or polycarbonate lights are intended for use in dry interior conditions only and can be cleaned with a soft cloth dampened slighty in warm soapy water when the light is switched off. Do not use detergents.
Assembly of shade is assisted by printed instructions included or online video. Assembly can also be arranged for you.
Join our mailing list to receive email updates on new products announcements, special promotions, events and more.